COURIER MEDIA
Courier Media uses a bi-monthly print magazine, podcasts and a variation of newsletters to give you the tools to learn new skills, make your own luck and be in charge of your own happiness when starting a new business.

BRIEF
Re-design and produce Courier Media's email newsletters to better reflect the quality of design found in the print magazine.

SOLUTION
My solution was to use simple and clever design elements to gain structure and heirachy in large bodies of copy as well as a cleaner more engaging design.

Over the process I brought in an amazing web developer Bhagyashree Achar and Data analyst Sara Parrish to make the newsletters the best they could be.

SERVICES
• Design development
• Build in Mailchimp


https://couriermedia.com/email/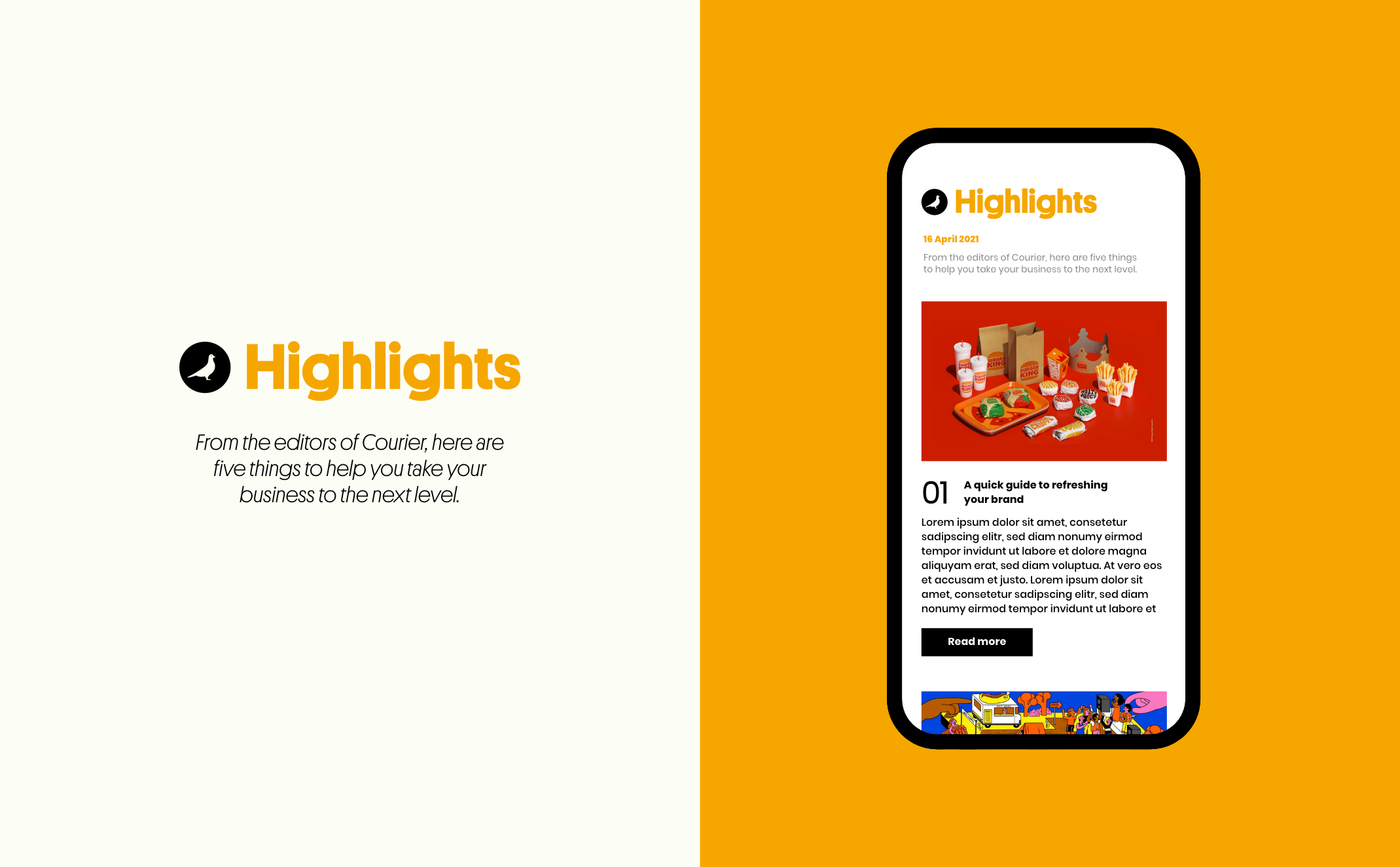 Weekly newsletter design (swipe to see old vs new)
---
Workshop newsletter design

---
Highlights newsletter design
DESIGN DECISIONS
All three newsletters needed a design overhaul.


My advice was to do the following things:

• Shorten emails by providing highlight content and direct readers to fleshed out stories hosted on their website.

• After consulting with Data analyst Sara Parish, I advised a them to segment their audience and consider optimising content based on segmentation. i.e. send business owners different content to someone in the early stages of a business idea.

• Have a consistent header across all three newsletters, but with an ownable colour palette.

• 'Chunk' the content to make it easier for readers to 'scroll and stop'. This was acheived by header images and dividing lines.

• Introduce brand font

• Encourage FWDing to a friend, subscribing and click through driving more traffic to the website.

• Introducing elements such a 'read time' and 'what to expect' to give the reader an idea of how much of their precious time we would be using.
• Use imagery & illustration to divide and add fun to content.
Hear me explain why I suggested less content and more segmentation:
---
These look great!! Elsie
thanks for great work on these.
Maegan Moore
Products Director, Courier Media
Thank you for all your amazing work!
Confident the emails are looking super slick now.

Kate McInerney
Creative Director, Courier Media